Friday, August 12-Sunday, August 14
Click here to sign up for the workshop. PLEASE NOTE YOU WILL HAVE TO SCROLL THROUGH THE CALENDAR AND SELECT EACH CLASS SESSION YOU WANT INDIVIDUALLY.  Then you can check out all at once.
Schedule: Friday 3:5:30pm, Saturday 10am-12:30pm, Saturday 2-4:30pm, Sunday 10am-12:30pm.  Sign up for each class you want to take.
Investment: $55/session or $195 for entire workshop.
Beginners will get expert fundamental instruction. Intermediate students will learn how to deepen their poses.  Advanced students will learn how to fine tune their practice.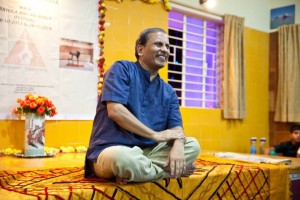 Tasha Yoga is honored to welcome Sri H.S. Arun for his third workshop in Williamstown, MA. Arunji has practiced and taught the art and science of yoga in India and around the world for more than 35 years. His teaching addresses each student in a simple, direct, and effective manner, while his wit and humor lend a positive energy to his classes. The variety and intelligence in his sequences, based on a solid knowledge of the Iyengar tradition, allow students to explore with ease the many facets of yoga from practical and profound. Arunji has been recognized with many awards, most notably the highest honor given by his home state, Karnataka — the Rajyotsava Award. This is a unique opportunity to study with a warm, devoted, and knowledgeable teacher. Sri H.S. Arun is a close disciple of B.K.S. Iyengar, Prashant Iyengar, and Geeta S. Iyengar. Arun is certified in Iyengar Yoga. We are thrilled to welcome H.S. Arun back for a weekend workshop Tasha Yoga in Williamstown, MA this coming August.