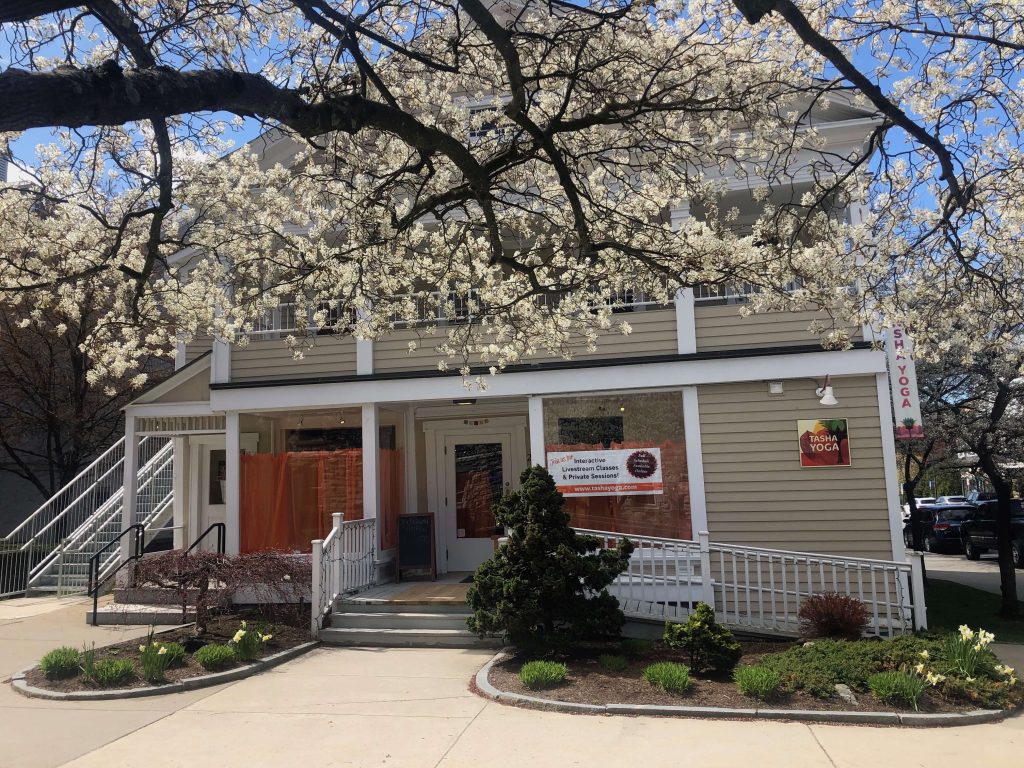 Due to Covid, all classes are currently live and interactive on Zoom.  In Person spots are available on a limited basis. Scroll down below calendar to find out more.
Links are available in the View Details section for your class.  You will also receive a link to your email when you register online for your class.  To prepare for your Zoom yoga class, gather your mat and props and set up 6-8 feet away from your screen.  This will allow your teacher to optimally guide the class and offer personalized cues.  You can check your Zoom link anytime. Currently all classes are Open Level welcoming all students.
In Person Classes:
Currently there are four In Person spots for each of Tasha's public classes.  Separate Pre-registration is required for In Person spots. Select IN PERSON, not LIVESTREAM, when you preregister.  You must send a picture of your vaccination card to [email protected] before you may come In Person .  Also please bring your own props.  You will not be able to use studio props at this time.  Once you get to your spot you may take off your mask.  Bring layers as the doors will be open. In-person is not currently available for Iyengar, Flow, or Chair Yoga classes.
Gift Certificates are available here.
Class Descriptions
Alignment Yoga (90 min): Fluid warm-ups precede deepening postures coordinated with breath, exploring the full range of asana to support easeful balance and deepening awareness in body and mind. Classes make use of variations and skillful props so each student is able to experience the poses, before concluding with deep rest and integration.
Iyengar Yoga (90 min): Noted for its clear alignment and playful exploration, as well as for plumbing the depths of experience. Iyengar Yoga was founded by yoga pioneer B.K.S. Iyengar.
Alignment Flow (60 min): Moving at a steady pace with intelligent options, variations and modifications are offered for all levels to explore. This practice synchronizes breath and the continuous flow of movement to build strength, endurance, balance and self-awareness. Expect creative sequencing and mindful alignment cues as you deepen your practice. Discover new and interesting ways to advance your practice.
Pricing:
Introductory Offer 3 Classes for $40 (Expires after 1 month)
LIVESTREAM 1 1/2 Hour Classes:
Single Class $15 (Expires after 1 month)

Ten Class Card $150 (Expires after 4 months)
LIVESTREAM 1 Hour Classes:
Single Class $12

(Expires after 1 month)

Ten Class Card $120 (Expires after 4 months)
IN PERSON 1 1/2 Hour Classes:
Single Class $25 (Expires after 1 month)
Five Class Card $102 (Expires after 2 months)
Ten Class Card $195 (Expires after 4 months)
Twenty Class Card $370 (Expires after 6 months)
If you are on Blue Cross Blue Shield through Williams College, you may be eligible for a $150 Fitness Reimbursement. Click here to download the form.