Natasha "Tasha" Judson, M.Ed., E-RYT500, Certified Anusara Yoga Teacher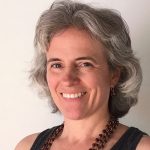 Since 1999, Tasha has offered Hatha Yoga in the Berkshires, Massachusetts. Her classes combine breath based movement, mindful alignment within poses, and intelligent sequencing to support the optimal unfolding of each individual. As she guides her students to practice with heartfelt expression and finely tuned alignment,  she encourages each one to enter into their own independent, revelatory relationship with life.
Tasha began her yoga asana practice in 1980, cycling the hills of Pittsburgh to get to class. After graduating from Wesleyan University in Asian Studies, she taught secondary social studies for nine years. In 2001 she completed a two-year Introductory Teacher Training in Iyengar Yoga with Patricia Walden. Subsequently she took another 200-hour, Anusara Yoga Teacher Training in New York City and became Certified in this method in 2007. She has been offering yoga full time since 2003 and is currently the Founder/Director of Tasha Yoga studio in Williamstown, MA where she teaches classes, workshops, therapeutics, teacher training and advanced studies as well as hosting workshops with guest teachers.
Seeking always to inspire her practice and teaching of yoga through love and a practical grounding in the ecstatic reality of being, she is deeply grateful for the influential guidance of her current teachers Paul Muller Ortega and Patricia Walden, and forever honors her roots with the Dalai Lama, , Chidambaram Temple, Insight Meditation Society, Mindfulness Based Stress Reduction, and Anusara Yoga. When not on the yoga mat, she is likely to be found at the horse farm with little bay Thoroughbred Rolan.
Anne O'Connor, Certified Iyengar Yoga Teacher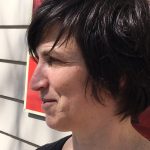 Anne has been practicing yoga in the tradition of B.K.S. Iyengar since 1995 and earned her certification as a C.I.Y.T. in 2016 after a two-year teacher training with Patricia Walden in Boston. She has also studied at length with Kevin Gardiner and with Elizabeth Brass in Berlin. Anne enjoys sharing the myriad benefits of B.K.S. Iyengar's rich, intelligent, and profound teachings with beginning and practicing students. Iyengar yoga is alignment-based and makes extensive use of props to help students reach a fuller expression of each pose through attentive adjustments.
Nicole Methot, LMT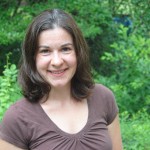 I have always had a fascination and desire to work with the body.  I began my exploration of the human form with formal dance training as young as 3 years old and continue the process through my work as a Licensed and Nationally Certified massage therapist. I consider massage to be less a luxury and more a necessity for healthy living.  After graduating from Barnard College in 1997 and New York City's Swedish Institute in 2002, I established massage therapy practices in New York City and then Missoula, Montana. I also spent time in Chiang Mai, Thailand studying Thai Massage and received a pregnancy massage certification from Niara Healing Arts.  In 2007 I moved to Williamstown and  am happy to be practicing in The Berkshires.  I am Nationally Certified and New York State and Massachusetts State licensed.
Ingrid Van Niekerk
Trained as a Kripalu Yoga teacher, her teaching focuses on building a healthier life both in mind and body on and off the mat.  Her style and approach focuses on the synchronization of breath and movement which encourages an inward focus and compassionate self-acceptance, observing the activity of the mind without judgement.  She will guide you to a deeper connection with your body through a practice that is intense yet playful.  Ingrid is currently completing her iRest Yoga Nidra training Level 2.  Her personal practice is Anusara Yoga and Shadow Yoga, along with Neelakantha Meditation as practiced in Blue Throat Yoga.
Ariella Markowitz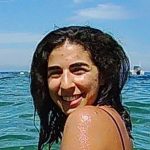 For Ariella, the goal of practice is balance—the balance that comes from honoring the movement and circular sequential vibrations of nature, and from the purifying effects of a daily yoga practice.  Through turning in to ourselves and to consciousness, we gain the power to more fully understand, soak up, and reflect the light of the world surrounding us.  Ariella has nearly completed her teacher training with Natasha Judson in Williamstown, MA.  She spent the past summer practicing with the Iyengar Yoga community in Boston.  Her favorite pose is Ardha Chandrasana (Half Moon Pose)!
John Durnin, RYT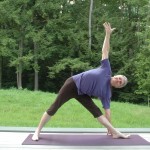 John began practicing yoga during midlife, and therefore he brings to his teaching the experience that anyone of any age can benefit from the flexibility and strengthening that yoga offers. His teaching emphasizes safety through proper alignment, patience in learning the poses, and advancing at one's own pace. He enjoys teaching anyone with
a willingness to learn, from beginners to experienced students. In 2011, he completed the one-year Yoga Immersion Program at Tasha Yoga and completed the Yoga Teacher Certification Program in 2012. He has practiced Anusara yoga for ten years.
John's philosophy that yoga should be fun is reflected in his teaching style. As an engineer, one might even see a reference or two to the physics and mechanics of the human body! John lives in Grafton, NY, about 30 minutes west of Williamstown, MA. He is currently taking part in the Yoga Teacher Development Workshops Series & Mentoring at Tasha Yoga.
Leah Wrobel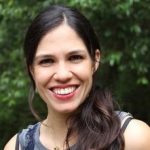 Leah Wrobel has taught yoga since 2003 in Israel, Europe and the USA offering group and private classes, in-depth workshops and retreats, and pelvic health support through yoga. Initially certified in Kripalu Yoga, Leah continued her studies to complete an 800-hour advanced teacher training in Vijnana Yoga. Her academic background includes a BA in humanities and social sciences from the Open University in Israel, and an MA in religious studies from Aarhus University, Denmark. In her teachings Leah aims to lead the body and mind through a deep and sensitive experience in a thoughtful and supportive way.  http://leahwrobel.weebly.com/
Deborah Crabbs MacDonald, M.S., RYT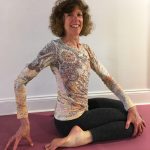 Deborah became a certified Kripalu Yoga instructor in the year 2000.  After many years of alignment-based practice, her current teaching is informed by physical alignment principles combined with the spirit of Kripalu Yoga.  Her approach has also been influenced by more than 30 years of body/mind study as a healthcare professional. Deborah's instruction is straightforward and clear with an element of playful curiosity. Her intention is to help each individual find a safe, challenging, and fun asana practice.The ongoing quest for increasing self-awareness is what continues to draw her to practice on and off the mat.
Zelda Stern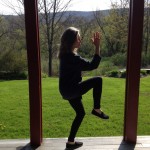 Zelda began studying the gentle form of exercise, meditation, and martial art known as t'ai chi ch'uan (or tai ji quan), in the 1970s in New York City with Herman Kauz, a martial arts expert who became one of the foremost teachers of t'ai chi in this country. Kauz learned t'ai chi from Cheng Man-ch'ing, one of the first Chinese masters to introduce t'ai chi to the United States.
After moving to Williamstown, Zelda continued to practice t'ai chi independently and then with instructor Scott Carrino, whose teacher had been internationally acclaimed t'ai chi instructor and educator Chungliang Al Huang. Zelda eventually taught in Scott's place when he went on sabbatical.
Zelda's classes consist of ch'i gong (qi gong) exercises followed by instruction in the Yang style Cheng Man-ch'ing short form, the most widely practiced form of t'ai chi. She holds a B.A. in Asian Studies from Barnard College, is the author of The Complete Guide to Ethnic New York (St. Martin's Press), co-author and co-translator of Mao's Harvest: Voices from China's Red Guard Generation (Oxford University Press), and worked for many years in public relations and communications.
In recent decades, science has discovered that the slow, flowing movements of the ancient Chinese art of t'ai chi offer a remarkably effective workout for people of all ages. Regular practice has been found to improve balance, coordination, leg strength, cardiovascular endurance, pulse rate, muscular flexibility, immune system response, mental concentration, and cognitive ability.