Currently available in person at 20 Spring St. in Williamstown, MA or online via Zoom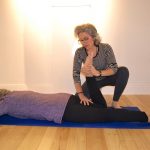 Individualized sessions are recommended if you are:
just starting yoga and want to learn the basic poses as well what classes would be best for you.
want to know how to adapt your yoga practice for the specific needs of your body and mind.
are developing a yoga practice at home and want routines suited to your needs and interests..
want to deepen your practice by working on a particular pose.
need specialized scheduling.
Yoga for Well-Being
Personal sessions in yoga can help you optimize the ease and support you experience in your body and mind.
Feet
Ankles and knees
Hips and low back
Shoulders and neck
Hands, wrists, elbows
Womens Life Cycle
Stress
Natasha Judson, M.Ed., E-RYT500, credits her training with chiropractor and yogi Dr. Tom Alden with the empowerment to take action to get out of pain through yoga.  Senior Iyengar Yoga Teacher Patricia Walden, and the Anusara Yoga community, have shown her how to become accomplished in yoga despite injuries, and how to help others do the same. Tasha has studied anatomy, yoga therapeutics and Bodymind Ballwork with Ellen Saltonstall, and anatomy and yoga therapeutics with Martin Kirk.  She is certified with the International Association of Yoga Therapy.
Pricing
Sessions are available for half-hour, three-quarter hour, or hour long. If you are just getting started, half-hour sessions can be a more effective use of your time.   Three 30-minute sessions are just $90.  A single 1-hour session is $65.  Block plans are available.
To schedule online, please visit our website.
To schedule or find out more, please email Tasha at [email protected] or text (413) 346-3638 to set up a time to speak.