When someone is troubled in the Aboriginal culture of Australia, she or he goes to the medicine man or shaman rather than a therapist. The first thing the shaman asks is "When did you stop singing?"  Aborigines believe their lives are inextricably connected to others and to Spirit through voices and singing. With great trust they rely upon what are called Song Lines in their ritual Walkabout, navigating in unknown territory guided by songs from one point to the next to arrive at the final destination.
As a culture we have lost this deep connection to our voices and to the riches they bring. We believe that singing is only for those who are "trained" or professional in some way. Really though, singing is one of the most natural expressions a person can experience.  Scientific evidence indicates that singing together strengthens our immune systems.  Plus singing together in this way brings deep joy and a strong sense of community.
Join others in a safe, supportive and fun environment where we will learn simple vocal exercises and games, sing songs, and explore ensemble and circle singing.  Circle Singing, a style developed by the great Bobby McFerrin, frees the voice so we find music inside us previously untapped and unexpressed. There are opportunities for solo work for those interested. This type of work enhances the sound of all types of singers and instrumentalists. No experience is necessary, just a desire to sing and share in transformative healing with others. A good sense of pitch and rhythm are important but formal training is not necessary.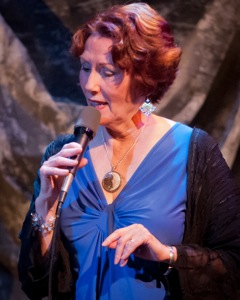 Evita is a jazz vocalist and psychotherapist, with over 50 years of combined experience in these areas. She performs in the tri-state area, in New York City and Boston, Georgia and recently in Point Reyes, California. She is a guest instructor with Bill Reed's Voice Studio in Burlington, Vermont.   She has studied over the past seven years with the rare and gifted Rhiannon who is a colleague of Bobby McFerrin, creator of Circle Singing, and a founding member of McFerrin's vocal improvisation group, Voicestra. Her CD, Invitation, is available through cdbaby.com. She is a certified Kripalu Yoga Instructor and teaches Body Awareness for the performing arts program at The Community College of Vermont. She also teaches private voice lessons, with focus on jazz and improvisation.
To visit Evita's website, click here.
For more information about the workshop itself, Evita welcomes your call at (802) 823-5356.
Circle Singing continues at Tasha Yoga with Evita on Wednesdays 6-7:30pm April 29, May 6, (no class May 13) May 20, and May 27.  This four session series is $60, or drop-ins are welcome at $17/session.  Please pre-register here (link coming soon).