Yoga OUTDOORS is a free flowing experience drawing on the elements of nature to stabilize your body, soften your heart, bring space to your mind.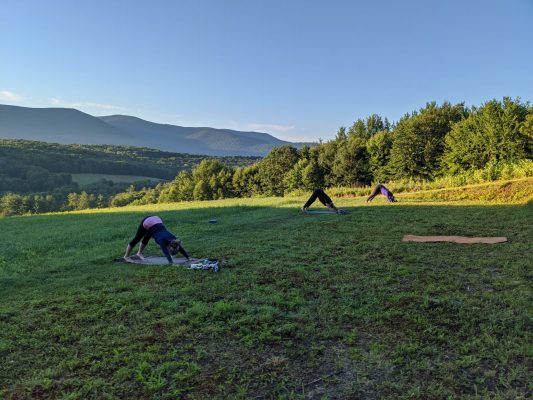 Upcoming Dates:
Saturday, August 1: 7-8am at Sheep Hill
Wednesday, August 5:  6-7am at Sheep Hill
Access from parking towards the the top of Bee Hill Road
Limited to 9 Yogis + 1 Teacher
Email us to be added to notifications for outdoor yoga, which is weather dependent for scheduling.
Rules:
Pre-registration required
Limit 9 yogis
Social distance.  When 6 ft. not possible wear mask.
Bring your own mat and props
Self screen before attending.  Please do not attend if you have symptoms.
You may want to bring:
Bug spray
Sunscreen and/or long sleeve clothing
Water
Hat
Layers
Location is top of Sheep Hill.  Access by Bee Hill Road.  Park in lot towards the top, then it's a short walk down.  Another option is to park by the Sheep Hill Farmhouse on Rt. 7 & and hike up, a steep 10-15 minutes.  Many thanks to
Rural Lands Foundation
for caring for this space and making it available! A portion of your class fees goes to support RLF.
Scheduling dependent on weather.  All pre-registered students will receive an email and are eligible for a refund in case of weather related cancellations.