Like Tasha Yoga on Facebook for more photographs!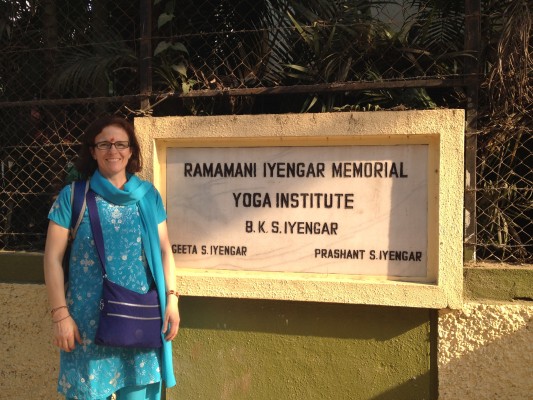 December 8, 2014 – Hello from Pune, where there are only three days left of teachings with Geeta. Yesterday was her actual birthday.  As a special event a huge bunch of kids from Pune and Mumbai came to the venue.  They practiced in the middle and many of us practiced along with them.  Its a lot of fun to move a lot and quickly!
November 28, 2014 – The month of practice at the Iyengar Yoga Institute in Pune, India is coming to close.  We have been very fortunate to receive the teachings of Gita Iyengar, as well as Prashant Iyengar and additional wonderful teachers from the Institute as well.  Our international tribe of November practitioners is dispersing.  On Monday a much larger group converges at Balewadi Badminton center near Pune for the ten-day intensive with Gitaji in celebration of her 70th birthday.  I am very grateful to be taught and to have this opportunity to practice.  Much gratitude to everyone who is making it possible, including all the students and teachers at the studio, my fabulous house sitter, and all the barn people taking care of Rolan.  I want to express a deeply heartfelt thank you to the Iyengar Yoga Association of New England for their generous scholarship support for my participation in this Intensive with Gita.  Happy Thanksgiving everyone and hope you are staying warm and cozy.
November 8, 2014 – Kids yoga class at the Iyengar Institute in Pune, India this morning saw 80-100 young yogis! About ten teachers tag teamed the instruction and assisting. The fast paced sequence, including lots of inversions, engaged the students for a full on hour long practice.
November 7, 2014 – So I've been in India a week already. Everyday we have an excellent class and a practice time next door at the Institute. I take notes on the sequences afterwards, sometimes with friends. A healthy simple meal is prepared at my flat, and I can eat it with my two Canadian roomies for lunch or dinner. Someone does my laundry and hangs it on a folding rack in my room under the ceiling fan, where it dries in no time. After evening class there is a cart with fresh coconuts where students gather briefly on their way home. I have managed to organize a working Indian cellphone, and plan to visit the caves at Ellora and Ajanta next weekend. So far so good!
November 3, 2014 – Today's favorite toy: the wooden horse, in my case today used for balancing standing poses from assymmetry in the legs and pelvis, and turning them into chest openers.
November 1, 2014 – I'm all set up with email now! Also an apartment next to the Iyengar Institute in Pune. We've had two practices and one class so far, the latter taught by Prashant Iyengar. I enjoyed it very much. Best thing so far: rope swings for headstand.