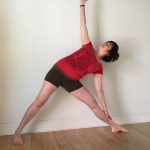 Now enjoy two Iyengar Yoga Level I classes each week with Anne, Wednesdays and Sundays 4-5:15pm!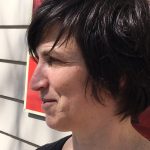 Anne O'Connor, Certified Iyengar Yoga Teacher (IYT)
Anne has been practicing yoga in the tradition of B.K.S. Iyengar since 1995 and earned her certification as a C.I.Y.T. in 2016 after a two-year teacher training with Patricia Walden in Boston.  She has also studied at length with Kevin Gardiner and with Elizabeth Brass in Berlin.  Anne enjoys sharing the myriad benefits of B.K.S. Iyengar's rich, intelligent, and profound teachings with beginning and practicing students. Iyengar yoga is alignment-based and makes extensive use of props to help students reach a fuller expression of each pose through attentive adjustments.