Beginners will get expert fundamental instruction. Intermediate students will learn how to deepen their poses.  Advanced students will learn how to fine tune their practice.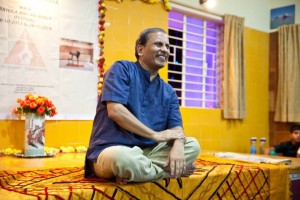 Tasha Yoga is proud and honored to welcome Sri H.S. Arun for his second workshop in Williamstown, MA. Arunji has practiced and taught the art and science of yoga in India and around the world for more than 35 years. His teaching addresses each student in a simple, direct, and effective manner, while his wit and humor lend a positive energy to his classes. The variety and intelligence in his sequences, based on a solid knowledge of the Iyengar tradition, allow students to explore with ease the many facets of yoga from practical and profound. Arunji has been recognized with many awards, most notably the highest honor given by his home state, Karnataka — the Rajyotsava Award. This is a unique opportunity to study with a warm, devoted, and knowledgeable teacher. Sri H.S. Arun is a close disciple of B.K.S. Iyengar, Prashant Iyengar, and Geeta S. Iyengar. Arun is certified in Iyengar Yoga at the Advanced Junior III level.We are thrilled to welcome H.S. Arun back for a one-week Residency at Tasha Yoga in Williamstown, MA this coming August.
Plan your trip to the North Berkshires: drape over chairs relishing unexpected profound ease and fulfillment in surprisingly deep asanas, take in a show at the Williamstown Theatre Festival, visit extreme big art at MassMOCA, hike the Appalachian trail, explore Van Gogh classics and more at The Clark, dive into a swimming hole, enjoy farm fresh dining…A little further afield, delve into dance at Jacob's Pillow or soak in music outdoors at Tanglewood.  We also have onsite massage therapy and Thai Massage as well as other modalities.  Please ask if there is something you are looking for.
Websites for trip planning:  Destination Williamstown & Williamstown Chamber of Commerce
Yogi in Residence Schedule:
Monday 6-8pm All Levels
Tuesday 9-12am Experienced
Tuesday 5-7pm All Levels @ The Left Bank, North Bennington VT
Wednesday 10-1pm Experienced PLEASE NOTE TIME CHANGE FOR THIS CLASS
Wednesday 4-6pm Experienced
Thursday 9-12am Experienced
Thursday 6-8pm All Levels
Friday 9-10:30am All Levels
Please Pre-Register HERE Entire workshop $250/Experienced Sessions only $150/All Levels Sessions only $110/a la carte $15 per hour
H.S. Arun is the author of Experiment and Experience on the Chair: The Yoga Way with forward by B.K.S. Iyengar
Visit Prashant Yogashraya on Facebook to learn more.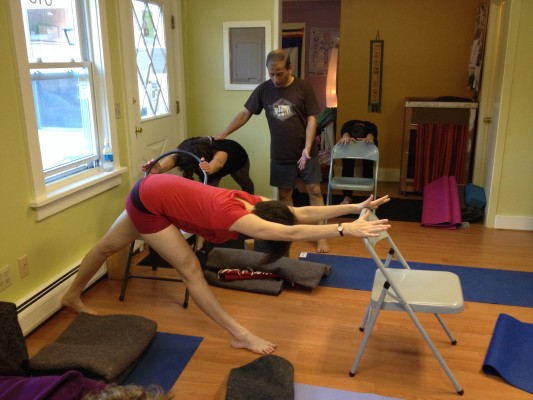 Anne O'Connor in Utthita Parsvottanasana at Arun-ji's 2014 workshop here.
From Tasha "I first practiced with H.S Arun in 2013 at Karuna in Northampton, in preparation for taking the Williams College students to his hometown in Bangalore.  I ended up in chair supported parivrtta janu sirsasana (deep twisting forward bend), more relaxed than I've ever felt in an asana.  Then he came to Tasha Yoga in the Spring of 2014 and taught many of the local students and we noticed a big shift and deepening at the studio.  In the Winter of 2015 I did bring college students to his studio in Bangalore, where he teaches everyone from lithe German Iyengar teachers to elders from the community walking with canes.  He taught my pretty raw beginners and everyone had a good experience.  Lately I've been working with his book Experiment and Experience on the Chair and finding the chair poses very helpful in my own practice. I've been teaching from the book too and again the whole room changes to a deep restorative feeling even in the chair standing poses.  This is a unique opportunity to practice directly with an Indian teacher of forty years at a time when the dialogue between the Indian roots of yoga and its Western iterations are making yoga even more of a global practice."
From Studio Yoga in New Jersey: "Beginners will get expert fundamental instruction. Intermediate students will learn how to deepen their poses. Advanced students will learn how to fine tune their practice. H.S. Arun has totally dedicated his life to the propagation of Iyengar Yoga. He takes personal interest in each and every student with a thorough understanding of their strengths and weaknesses and guides them to perform according to their capacities. His continuous research into all aspects of yoga and its relation to the mental and physical well being of man has helped him to introduce innovative methods of teaching asana. This in turn helps the students grasp the finer aspects of the postures. His ever-ready wit and humour enliven the classes."