Prenatal Yoga Training at Heart of the Village Yoga, Manchester VT
with Tasha Judson
1:00 – 6:00PM, Sunday, November 5
$90
A training for yoga teachers and practitioners to learn how to adapt poses to accommodate mamas and the life growing inside them as they prepare for birth. You will learn the contraindications of poses, and as well as the nuances of practicing yoga while pregnant.
5 CEU's available through Yoga Alliance.
Since 1999, Natasha "Tasha" Judson, M.Ed., E-RYT500 has offered Hatha Yoga in the Berkshires, Massachusetts. Her classes combine breath based movement, mindful alignment within poses, and intelligent sequencing to support the optimal unfolding of each individual. As she guides her students to practice with heartfelt expression and finely tuned alignment, she encourages each one to enter into their own independent, revelatory relationship with life.
Tasha began her yoga asana practice in 1980, cycling the hills of Pittsburgh to get to class. After graduating from Wesleyan University in Asian Studies, she taught secondary social studies for nine years. In 2001 she completed a two-year Introductory Teacher Training in Iyengar Yoga with Patricia Walden. Subsequently she took another 200-hour, Anusara Yoga Teacher Training in New York City and became Certified in this method in 2007. She has been offering yoga full time since 2003 and is currently the Founder/Director of Tasha Yoga studio in Williamstown, MA where she teaches classes, workshops, therapeutics, teacher training and advanced studies as well as hosting workshops with guest teachers.
Seeking always to inspire her practice and teaching of yoga through love and a practical grounding in the ecstatic reality of being, she is deeply grateful for the influential guidance of her current teachers Paul Muller Ortega and Patricia Walden, and forever honors her roots with the Dalai Lama, Chidambaram Temple, Insight Meditation Society, Mindfulness Based Stress Reduction, and Anusara Yoga. When not on the yoga mat, she is likely to be found at the horse farm with little bay Thoroughbred Rolan.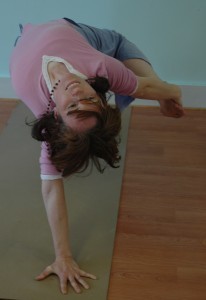 Cancellation policy
Cancel by 11/18/2016 and receive a refund less a $15 cancellation fee.
Cancel within 2 weeks and receive a refund less a $30 cancellation fee.