Join us for outdoor yoga this week 3-3:50pm at the top of Spring Street.  The event is part of Summer Sundays, so there will be lots of fun, often arts related, things going on that afternoon!  You do not need to sign up in advance to attend.  Please bring your own mat.  If it is raining, class will not take place.  Hope to see you there!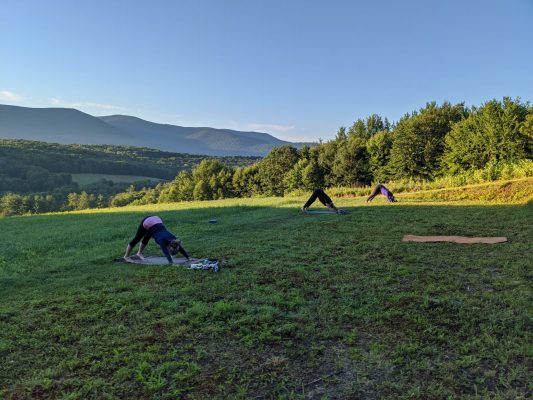 Summer Sundays 2021 
Williamstown Cultural District Event Promotion 
Williamstown, MA (August 16, 2021) – The Williamstown Cultural District announces the second Summer Sundays of 2021, reviving a traditional showcase of local talent and creative activity in a street fair format. Scheduled to take place 3-6 pm on August 22, rain or shine, Summer Sundays are free and open to all.
The August 22 Summer Sunday will feature musicians, a professional chalk artist, creative activities, and vendors in the Williamstown Cultural District. 
Williamstown Cultural District has commissioned Katie Runde (http://www.katierunde.com/) to design and create a large-scale chalk art piece on Walden Street. Katie is an illustrator and painter whose portraits are described as contemporary realism. She will be working on her piece beginning at about 1 pm, and visitors are encouraged to observe the earliest steps in the process. 
In addition, with Katie Runde's art as inspiration, local art therapist and educator Kaye Shaddock (http://artworkscommunityart.com/) will lead an activity for anyone wanting to try their hand at chalk art.  Kaye will offer prompts, materials, and support to all who want to give it a try!
Other interactive activities include: painting rocks with Artist Alison Kolesar (https://www.alisonkolesar.com), making your own jewelry with Artist Alison Case, art relaxation techniques with Artist Ellen Joffe-Halpern (https://joffearts.com), a family craft activity with the Williamstown Girl Scouts, "Art To Go" with The Clark (https://www.clarkart.edu), and coloring books from the Williams College Museum of Art (https://artmuseum.williams.edu).
Throughout the day, you can enjoy the music of Ethan Eldred, Michael Junkins Group (https://www.michaeljunkinsjazz.com/ensembles), Jaane Doe (http://www.jaanedoe.com), Melanie Alanna Glenn (https://www.melaniealannaglenn.com), and Tilly Shaddock.  Musicians will be interspersed along the street amidst the artist demonstrations and artists selling their work.
Tasha Yoga (https://tashayoga.com) will host a free, outdoor yoga class for all ages at 3pm.  At 4pm, the Berkshire Dance Theatre (https://www.berkshiredance.org) students will share their love for dance with an inspiring demonstration.  Then at 5:30pm, join us as dysFUNKcrew (https://www.facebook.com/dysFUNKcrew) performs a lively dance routine.
All activities will happen against a backdrop of a vibrant local artist show, Coming Into The Light, displayed in shop windows along Spring and Water Streets. Many shops and restaurants will host extended hours for shopping and dining. 
We are still adding vendors and other creative activities. Businesses are also invited to get involved by contacting Cecilia Hirsch at [email protected] or by filling out this form: https://forms.gle/RofmWHwLdJpkQupv9 
Summer Sundays is funded in part by a Cultural District grant from the Mass Cultural Council (MCC). 
All events are subject to change.